Live TV tapings are often full of flubbed lines, extra takes, and lots of crowd participation. How do you get invited to a CMT show? Casting companies are hired to find a diverse mix of people that will make the perfect audience. You'll have to wear colors suitable for TV - jewel tones are preferred. Once chosen, you have to smile, sing, and never look at the many cameras that are flying around you. Want to get some screen time? Just know all the words to every song, and you're golden. Now, knowing word-for-word the lyrics to absolutely every Brooks & Dunn song is probably the thing that I'm best at doing. I could maybe even recall some of the dance routines we used to make up as kids when we listened to their "Greatest Hits Collection" CD on repeat.
Crossroads History
Premiering in 2002, the CMT show pairs acts with other musical guests, resulting in unforgettable collaborations. The inaugural episode featured Lucinda Williams and Elvis Costello. Other notable pairings include the Dixie Chicks and James Taylor, Travis Tritt with Ray Charles, Dolly Parton and Melissa Etheridge, and more. Brooks & Dunn first appeared on the show with ZZ Top in 2002.
As we were waiting on sundown, Brooks & Dunn welcomed the crowd and explained how all the on-screen magic works. They then launched into their 1996 hit, "My Maria," amid Broadway's honky-tonk heart in downtown Nashville.
The unstoppable duo always seems to unlock a new level of success with each single they released and this one was no exception. "My Maria," a B.W. Stevenson cover, was the most-played song on country radio for that entire year and helped them become the first (and only) duo to ever claim the Entertainer of the Year prize from the CMA.
The evening's first guest, the retro and raving, Midland, joined Kix and Ronnie on one of the most popular 90s hits, "Boot Scootin' Boogie." It was the first country song ever to be re-mixed into an extended version for club play and helped spur the decade's line dance craze.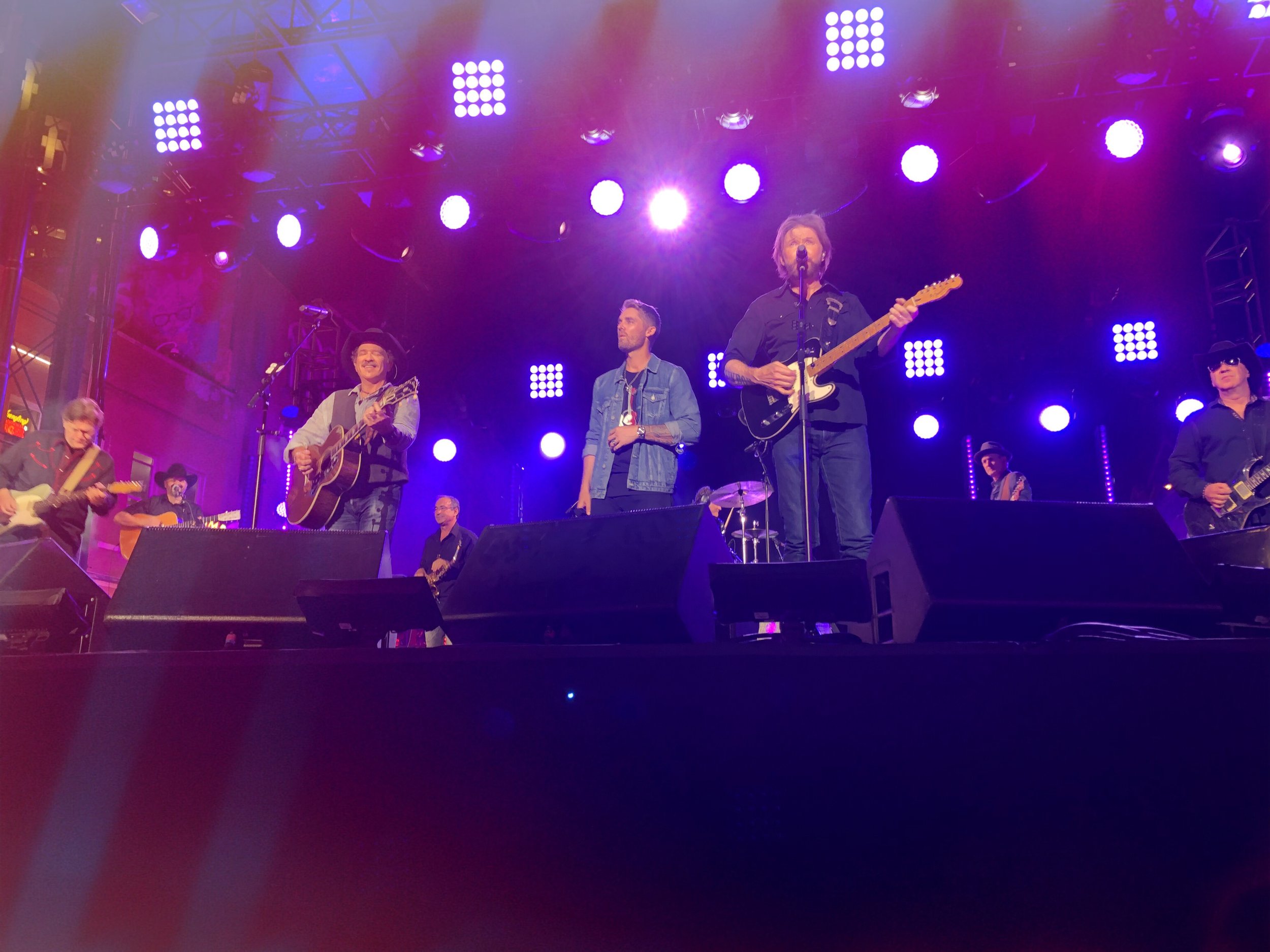 Brett Young slows the tempo with a sultry spin while an intoxicating saxophone solo takes the song to new heights. Noted as B & D's triumphant 2001 radio resurgence, this single dominated the number one position on Billboard's airplay chart for an astonishing six weeks. Again, they notched another most-played song of the year honor from Billboard.
Jon Pardi intentionally doesn't stray too far from the original recording, and the pure country melodic structures blend perfectly with his traditional sound. Unsurprisingly, Jon was the most entertaining guest artist with his wild antics and sheer excitement of being on stage with future members of the Country Music Hall of Fame.
Mama Don't Get Dressed Up For Nothing
Lanco's Brandon Lancaster trades lines with Kix Brooks in this 1996 hit. While it was the first Brooks & Dunn single that failed to reach the top ten, it stalled at #13; the fan-favorite remains a staple in the duo's live show.
Red Dirt Road
The poetic imagery that emerges from this Kix Brooks and Ronnie Dunn-penned song is merely timeless. Declaring a pinnacle is tough when you're talking about a catalog of songs that have remained beloved favorites for over 30 years. But "Red Dirt Road" is one of those that crest far and above and when you add Cody Johnson's vocals to it, it's a dream-like scenario.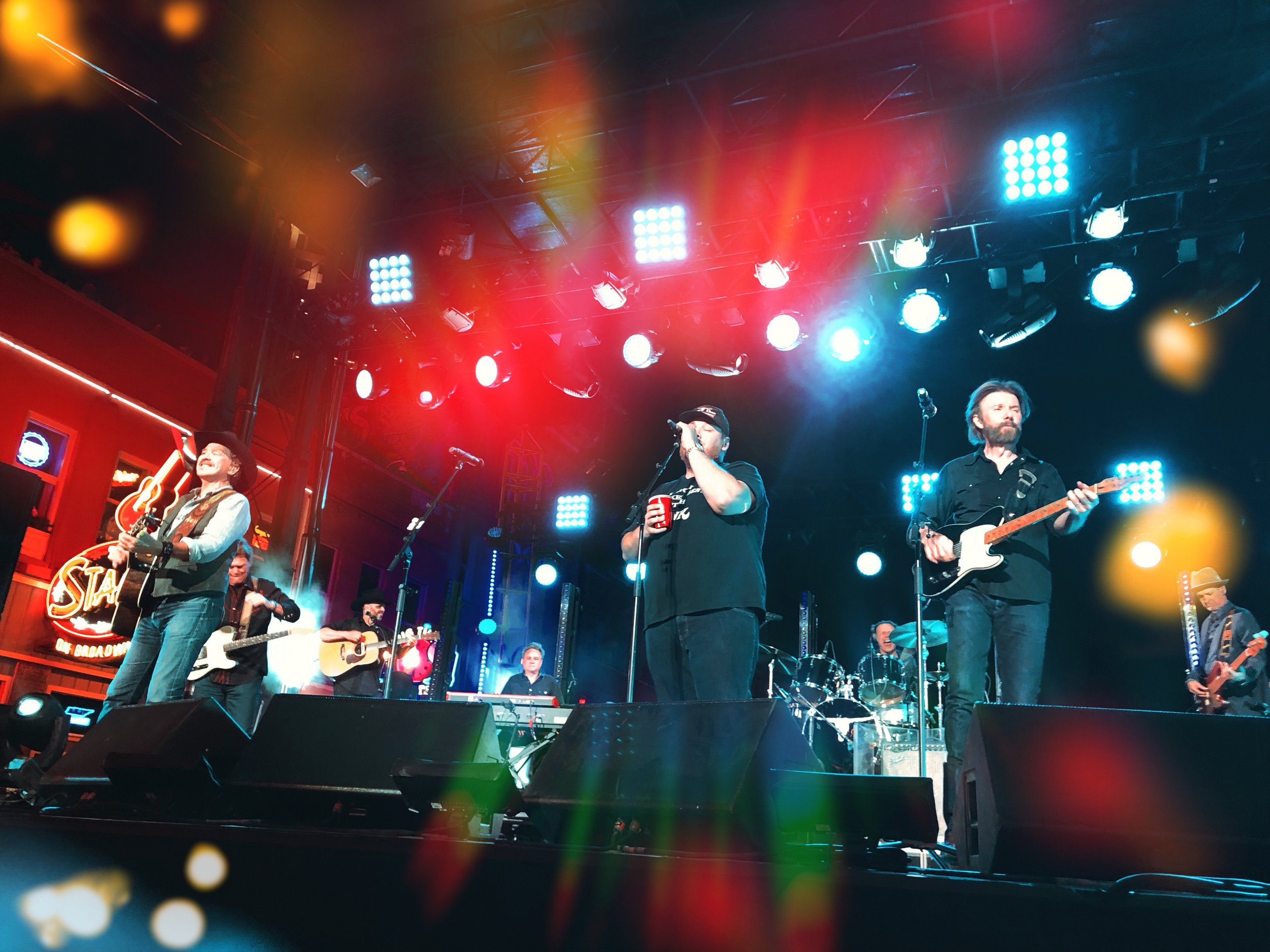 The one that started it all. Luke Combs helped close the show with the duo's iconic (you can say that about all their songs and not be exaggerating) introduction to country radio back in 1991.
Crossroads: Brooks & Dunn and Friends premiered on CMT in late June 2019. You can view the entire episode online here.