Rising country singer-songwriter Brooke Lynn moved to Nashville just one year ago. While her story is similar to those who pack up and head to Music City to chase a dream, her own path was originally set to become a doctor, but then her passion of music intervened.
"I moved to Nashville on Labor Day of 2018. I packed up my dad's new Chevy truck and drove 16 hours, all by myself, down to Nashville," Brooke Lynn says. "I was moving in with two roommates I had never met before (I met them on Facebook) but they were both out of town for Labor Day. So not only did I drive a whole 16 hours by myself in a day, but I arrived at an empty apartment.
I didn't have a bed, so I slept on the couch that night. I honestly passed out that evening because the 16-hour drive wore me out, but I remember driving into town, looking at all of the city lights of downtown Nashville, and just taking a deep breath and knowing I was home. Since I visited Nashville when I was 15 years old, I've always felt that Nashville was another home for me, that I belonged here. And I wonder if God didn't place that feeling/inkling in my heart for a reason. It was a nerve-wracking and exciting night as I arrived in Nashville, because I knew there would be a lot of "new" and "unknowns" ahead of me, and they're still are even a year later, but I just felt so much joy for myself and my future, that I was brave enough to do the thing and move to Nashville."
Q: You had plans to attend medical school and studied medicine for four years in college, then music took over. Where you scared of adverse reactions when you decided to pursue music full time?
"At first, I was extremely fearful of push back, negative reactions, and judgment. I went to college for four years studying medicine, and that is pretty much all I did, except for singing at a few events here and there throughout the years. I didn't have time to work on my music during college, because I chose to focus on medicine and to study hard and to try to get into medical school, which is quite the cut-throat challenge itself. But I never ignored music, it was always there, and it always served as my safe-haven and stress-reliever.
Because I didn't do music a lot in college, not many people were fully aware of how involved I was in the music industry when I was younger and what that looks like as an independent artist these days. Eventually, when I was brave enough to make such a life-changing decision, I came to the understanding that some people might not approve, and some people might judge and shake their heads, but it's not because they don't believe in me or because they think I'm a bad person, it's because of a lack of understanding. Although I had prepared myself for a lot of criticism, especially from some of my best friends who were going onto medical school, I can honestly say that I received none.
Sure, there were people who made little comments here or there about it not being a good idea to give up security and the "known life route" of medical school, but these people also don't truly know me or where I come from or my past, so how could I expect them to understand? But all in all, I honestly received such encouraging and thoughtful and inspiring messages, and I'm still getting them to this day, from high school and college friends/peers, as well as from parents of friends, professors/teachers, etc. And I could not be more thankful for every encouraging message that I receive; it doesn't matter from who or when I get it, I take every single one to heart. I get asked quite a bit if my parents were horrified and disappointed, but I love that I get to say not at all. My mother was sad I was moving so far away. Both her and my dad were 110% in and still support me. My dad has been telling me since the age of 12 that he "knows" I belong in Nashville, singing and making great music, and it's pretty cool that he was so right."
Q: Packing up to a new city at such a young age can be exciting, enthralling, and scary, all at the same time. Did you have any Nashville connections before moving?
"I only knew a few people in Nashville before I moved here last September! When I was 15 years old, I came to Nashville for a summer before my 10th grade year of high school and wrote and recorded my first country album at Sony ATV Tree Studios. It was such an insanely amazing experience, one that I will never forget. So through that experience, I knew a few contacts before moving. I also had two high school friends who moved down to Nashville a few years ago to pursue music, one of which I used to sing at church with, and so it made me feel better knowing there were at least a few familiar faces in town."
THE MUSIC
Do you write solo or prefer co-writing?
"I love co-writing. I love getting two or three creative brains in on an idea because it always blows up and goes in a direction that no one anticipated, and I think that's magical and so fun! I love the people that I write and create with, most of them are some of my greatest friends, and getting to hang out with them and create amazing songs and music is truly a blessing. Every single person brings something different and unique to each write, and I think that's why some of the best songs are written by more than one person. I will often think of ideas, lines, or hooks when I'm alone, and I jot them down, but I love bringing them to other people and seeing what comes of it."
INFLUENCES
Carrie Underwood: I have loved her since her Idol days, and I grew up watching videos of her and going to her concerts. I was always the only person standing completely still and silent in a stadium full of her insanely amazing fans, just taking in everything she did and every note she sang. And I love that she is open about her faith and how important it is in her life because my spiritual life is extremely vital in keeping me healthy and sane in this crazy business! It's so brave to be open about your faith, and I have learned a lot from her.
Miranda Lambert: She showed me how to be a confident female artist and to be proud of what I believe in and what I create as an artist in country music. Her songs are real and raw and sometimes touch on tough subjects, and I LOVE that about her. I always aim to be authentic in everything I do, and I learned the importance of that through Miranda and her music.
Garth Brooks: He is the whole package, and he puts on the best show. His concerts are hands-down some of the best shows out there. Garth leaves it all on the stage for his fans, and you can tell that he doesn't treat performing like a job, he genuinely loves it and wants to be out there with all of his fans. That makes for the best kind of shows. He taught me the standards of artistry that I want to grow and learn to be.
I grew up listening to so many other amazing artists who all had their influence in my life, including Shania Twain, Faith Hill, Trisha Yearwood, Martina McBride, LeAnn Rimes, Gretchen Wilson, the Dixie Chicks, and Taylor Swift."
"I'm not sure if I have a favorite album of all time, but I do have a few that I love listening and jamming to in the car where I don't need to skip over songs that I don't like. One of those is Carrie Underwood's album Storyteller. Another album I love is Dan and Shay's album, Dan + Shay. Their songs are so beautifully written, and Shay's voice is so gorgeous and high, I can sing along to every song!"
First concert
"I don't even know if I truly remember my first concert because I was pretty young. It was Tim and Faith's first Soul 2 Soul Tour and they played at the Xcel Energy Center in Minneapolis, and I remember getting so upset that Faith Hill was touching everyone's hands down by the stage, but she wouldn't walk out into the crowd and touch my hand. I was genuinely upset about it, but I walked out of the concert with one of their Soul 2 Soul t-shirts that I still have to this day, so I still walked out a winner."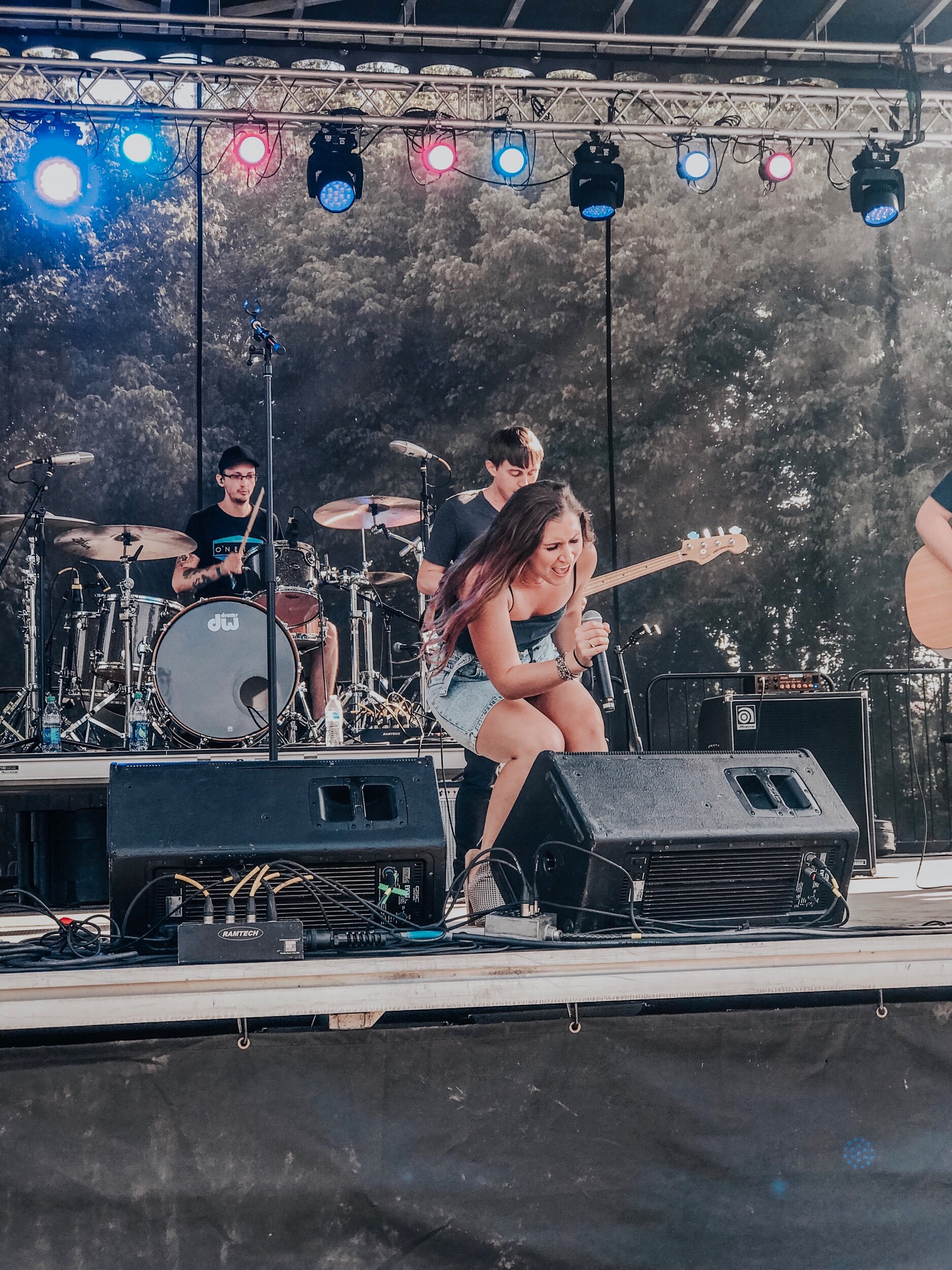 "I recently played my first country music festival in Lynchburg, TN called Lynchburg Music Fest, and that was probably my favorite performance EVER. We played on the radio stage, and it was an insane 45 minutes on stage. The sound was phenomenal, and people came to listen to music. It was magical!
I love playing Live Oak off of Demonbreun. The stage and sound and lighting are always so fantastic, and it is so fun to watch people come in off the street as you're playing. I love Demonbreun in general, but Live Oak has always treated us well. My next goal is to play a full band show at Live Oak because their sound is just so amazing and the aesthetic of the place itself is so cool. I love just hanging out there when I'm not playing. I also played a charity round at the Corsair Distillery in Marathon Village. It was an amazing event and such a cool spot for music, too. I love playing open mic night at the Bluebird Cafe because of how respectful and silent the venue is-I find it so cool when people genuinely go to listen to the music and songs being played. I would love to play a round at the Bluebird Cafe.
Everyone wants to know all the best places to visit in Nashville…where do you tell them?
Smokin' Thighs and McDougals: I currently have an obsession with two amazing barbecue places in town. I come from Minnesota where people think they know what barbecue is; so I've been indulging in my fair share of barbecue since I've been to town.
First Watch: It's a farm to table brunch restaurant (I serve at the Franklin location on weekends), but brunch is my favorite thing EVER, and the food is relatively healthy too which is always a plus!
Jeni's Ice Cream: I'm also an ice cream fanatic, so of course I love a good indulgence from time to time!
Finnleys Boutique: One of the first few months I lived here, I was shopping in downtown Franklin and dropped way too much money in there for a cute fall outfit to wear to church. Totally worth it though.
Radnor Lake: I always take friends and family there for a good hike when they visit.
"This might sound weird, but I love my church. I was introduced to my church the first week that I lived in Nashville, called 5 Stones Church, and the first few months I lived here, I spent time creating a church family and involving myself in my church community. My faith has grown, and my spirituality is stronger; it helped to ground me and gain perspective. I'm a people-person, and I love being around kind, uplifting humans, and I've made some of the best friends through bible study and other small groups at my church! I've never attended a church where every Sunday I feel like the message is specifically for me and what I'm going through. The sermons are also on a podcast which is amazing when I'm out of town or working."
What do you love about Nashville?
I love that a lot of people aren't from Nashville, we're all a bunch of outsiders (besides the few that were born and raised here), and we're looking for friends and people to reach out to as we try to figure out this whole "music" thing. I've never been a part of such a fun, creative, unique, and vastly different group of individuals as there are here in Nashville. And that is exactly what makes it so special. In this town, everyone (for the most part) is so outwardly kind and willing to help you, connect you, and teach you things you wouldn't have otherwise known.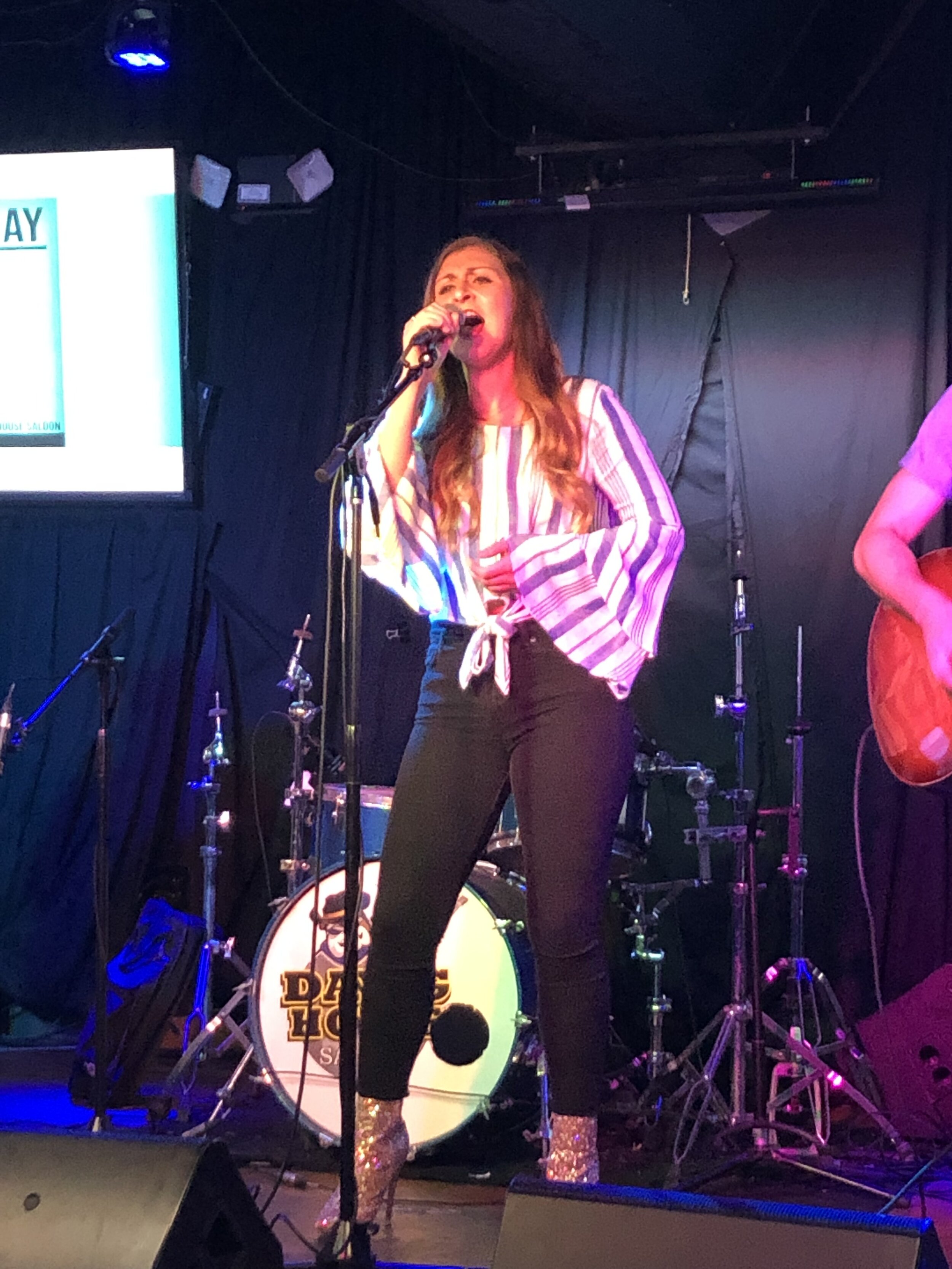 The dreams and aspirations that are held within this town, the expectations of this town to change so many human lives is pretty intense if you sit down and think about it. It's the dream if you want to pursue country music, so I can check step 1 off of my list.
Obviously there is a ridiculous amount of talent in this town, most of it undiscovered, which is frustrating some days, but I thoroughly enjoy meeting new people and working with people to write and record and produce good music. Also, the talent of musicians in this town is mind-blowing and having a tight, cohesive band backing you live is a true blessing. It makes for a cool stage experience.
The weather here is also amazing because it dropped to maybe 20 degrees last winter here (while it was -50 degrees back home in Minnesota). I had to put my thick, heavy winter coat and uggs (my everyday attire in Minnesota) aside and I couldn't have been happier about it (although I do love my uggs, don't hate).
Nashville is music; it is hope, it is dreams. It's where I always knew I needed to be. What is there not to love about Nashville?
Brooke Lynn's latest single, "Lovin' My Mamma" is out now - a touching ballad that details her parents' love story.
"My father has always been my absolute biggest fan ever. He is always bragging on my siblings and me to all of our family and friends. And growing up I took that for granted, and sometimes I found it annoying, but as I got older, I realized how special it is to have a father who is so excited about your crazy dreams and who loves so hard when he never experienced that growing up.
My dad lost his father when he was 12 years old, and after that, he moved out and into a trailer house (that he bought) that was on a farmer's land that he worked for. Since age 12, my dad has been supporting himself; he raised himself. I don't know about you, but I cannot imagine raising myself or taking care of myself at 12 years old. As I got older, I learned more and more about my dad's past, the family he grew up in, and what his life was like. He has been through the wringer. He doesn't even remember his mother ever saying she loved him. He also lost his best friend in a car crash when he was a teenager. So I don't know how much more loss a human being can experience before they BREAK. But he never broke. He SURVIVED all of that and somehow taught himself how to LOVE my mother, be faithful to her and our family, and to raise three crazy kids.
I know how to love because of how I was raised and watching my parents love and respect each other. He never had that, and he still figured it out. Maybe he wouldn't win a husband of the year award, but he deserves appreciation for choosing love over resentment and hate. I don't think my parents ever realized how much I paid attention to their lives and their stories, and so when I was in a write with my great friend Stefanie Joyce, we were talking about wanting to write a song from a perspective that hasn't been written yet.
We wanted to do something unique and something really special. And it clicked right away that I wanted to write a song for my dad, to show him that I pay attention and that I care. I want him to know that I appreciate his love and his faithfulness to our family. And Stefanie connected with this idea right away, which was cool. It took two separate sessions to finish the song, but when we finished it, we knew this was one of the most special songs for us. We didn't realize how many people would connect to it though, because it started as such a personal message. I think we both truly love how many people it has already been able to touch."
What's next?
"Right now, I'm at the beginning of this whole musical journey. I'm not really sure where this journey is going to lead me, but for the meantime I'm going to continue writing great songs, getting more music out for listeners, playing my music out wherever I can, and trying to get my music heard by more and more people. I'm planning to release another single later on this fall and an EP next spring (2020). I've been thinking more and more about touring, but nothing is in the works yet.
My ultimate career goal is to be a country music recording artist, touring across the U.S. and even the world one day, playing my music for fans everywhere! I have a true passion for performing and singing, and I cannot imagine doing anything else. Writing has become a big passion of mine as well, and I want to continue writing my music and sharing my stories and messages with my listeners.
Most of the time I write for the people who are listening because giving them their 3 minutes to celebrate, to raise a glass in solidarity with people around them, or to cry and grieve, is what this whole thing is about. Music is healing, tangible healing, and we all need at least three good minutes of that every day."